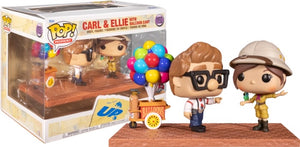 *Up - Carl & Ellie with Balloon Cart Movie Moments Pop! Vinyl Figure 2-Pack
If there's any form of a soul inside of you, there's no way you can watch the "married life" montage of Disney's Up without bursting into tears. It is one of the most beautiful, yet tragic sequences ever produced by Disney, an absolute masterclass in filmmaking.
Up centers on an elderly widower named Carl Fredricksen and an earnest boy named Russell. By tying thousands of balloons to his house, Carl sets out to fulfill his dream to see the wilds of South America and complete a promise made to his late wife, Ellie.
This Pop! Movie Moment features both Carl and Ellie at the Zoo when they were younger, complete with balloon cart and Ellie holding her bird from the South America exhibit.
Another adorable piece that's sure to put a smile on anyone's face, add the new Carl & Ellie Pop! Movie Moment to your Funko collection today.
W3(2)
Box 413a (1) FH