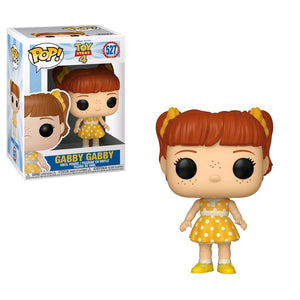 *Gabby Gabby Pop No 527
Just when you thought those toys from Andy's room couldn't get into any more mischief, they've gone and got themselves lost... again. Yes Toy Story 4 is set to hit cinemas in June, so to celebrate we've got a whole new range of Toy Story Pop Vinyl Figures!
In Toy Story 4, Woody, Buzz Lightyear and the rest of the gang embark on a road trip with Bonnie and a new toy named Forky. The adventurous journey turns into an unexpected reunion as Woody's slight detour leads him to his long-lost friend Bo Peep. As Woody and Bo discuss the old days, they soon start to realize that they're worlds apart when it comes to what they want from life as a toy.
This first wave features some of our old favourite, as well as some newcomer sto the Toy Story franchise; obviously we've got Woody, complete with his cowboy lasso, and the Space Ranger himself Buzz Lightyear is here to keep Woody in line. Joining them we have the adorable three-eyed alien, the wacky cowgirl Jessie, as well as the three newcomers, Ducky and Bunny the stuffed carnival toys, and Forky, who refuses to acknowledge that he's now a toy and not a utensil.
pop4