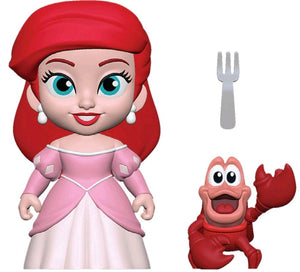 *Ariel Princess 5-Star Vinyl
Take a trip under the sea (it's wetter down there, and therefore better), with the latest addition to Funko's new range of 5 Star 4" Vinyl Figures.
Released in 1989, Disney's The Little Mermaid tells the story of Ariel, a mermaid princess who dreams of becoming human, a fact that the evil Ursula plans to capitalise on in order to replace King Triton as ruler of Atlantic.
In addition to Funko's usual attention to detail and characterisation, the 5 Star series boasts several unique features including:
- three points of articulation, allowing the figures to be posed
- window display box packaging that mimics the opening of a book, situating each character in their unique world
- character-specific accessories that further the character's narrative
This 4" figure features Ariel wearing her pink princess dress, complete with her buddy Sebastian and her Dingle hopper (aka fork).
STAND 4