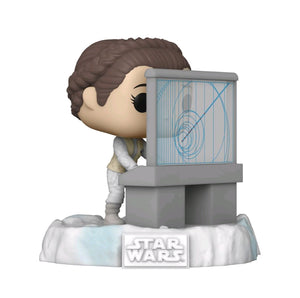 *Star Wars Leia US Exclusive Pop Deluxe Diorama No 376
By Funko
Many Star Wars licensees are focusing on the 40th anniversary of "The Empire Strikes Back" this year. Funko already presented the first wave of Star Wars Episode V: The Empire Strikes Back 40th Anniversary collectibles, a so-called "Battle at Echo Base" series with a total of six different Deluxe Pops.
The unique feature of the new "Battle at Echo Base" series is that all six planned Deluxe Pops will be on a separate Hoth Base and can be connected as desired to create a large diorama.
It all started in early March with a chic Wampa, and later Han Solo with Tauntaun, Flocked Chewbacca, and Probe Droid were already announced. Now it's time for the 5th figure to come out.
This Pop features Princess Leia.
Made of plastic/vinyl
Approx 6" Tall
 S1