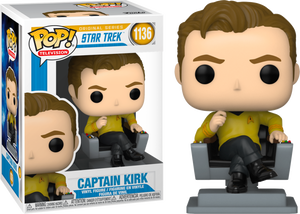 *Star Trek: The Original Series - Captain Kirk in Chair Pop! Vinyl No: 1136
"Space: the final frontier. These are the voyages of the starship Enterprise. Its five-year mission: to explore strange new worlds, to seek out new life and new civilisations, to boldly go where no man has gone before."
Trekkies it's time to set your phasers to excited, since Funko have just announced this amaing new wave of Star Trek: The Original Series Pop! Vinyl Figures!
Set in the Milky Way galaxy, roughly during the 2260s, Star Trek: The Original Series is still considered one of the greatest sci-fi television shows of all time, following the lives of the USS Enterprise crew.
Funko's new wave celebrates the iconic episode 'Mirror Mirror' from the show's second season, which sees a transporter malfunction, swapping Captain Kirk and his companions with their evil counterparts from a parallel universe. 
W1