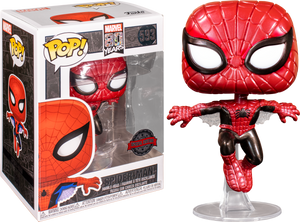 *Spider-Man - Spider-Man First Appearance Metallic 80th Anniversary Pop! Vinyl 593
It wasn't until 1962 that the world was blessed with help of our friendly neighbourhood Spider-Man, as he swung from the pages of Amazing Fantasy #15 and into our lives forever, becoming one of Marvel's most iconic heroes. So now that Marvel are celebrating their 80th anniversary, it seems only fitting that Ol' Spidey joins Funko's new 80th Anniversary series of Pop! Vinyl Figures. 
Funko's new 80th Anniversary Pop! Vinyl Figure features Spider-Man as he originally appeared in the comics, coming complete with a stand to give the impression that he's swinging through the air. On top of that, he also comes with a stunning Metallic finish.
W1