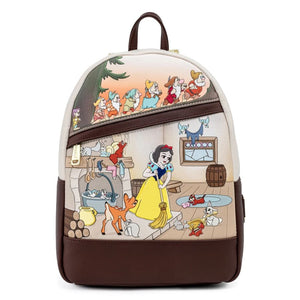 *Snow White and The Seven Dwarfs (1937) - Multi-Scene 12" Faux Leather Mini Backpack LOUNGEFLY

BRAND NEW
"When Hearts Are High The Time Will Fly, So Whistle While You Work."
The first Disney princess, 'the fairest of them all', is as iconic as they come, and fittingly Loungefly have created this beautiful Mini Backpack showcasing why the 1937 classic set up Disney for success. On the bottom half of the bag, Snow White is pictured tidying with the help of the woodland critters and on the top the Seven Dwarves make an appearance, straight from the iconic moment they march off to working singing "High Ho, off to work I go."
Made out of faux leather (polyurethane), this Mini Backpack has adjustable shoulder straps, and features printed details. Also take note of the coordinating design of the inside lining fabric!
Thanks to Loungefly you'll stand out with this Mini Backpack and be the talk of the town as well as keep all your party gear safe & sound as well!
While you're at it, don't forget to check out the matchingZip-Around Wallet to complete the look!
Stand 5