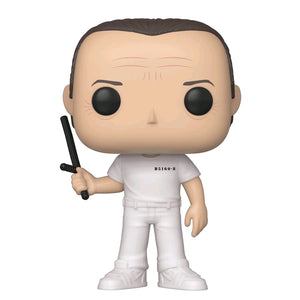 *Hannibal Pop No 787
May have window scuff marks
By Funko
The Silence of the Lambs - Hannibal Lecter Pop Vinyl Figure
He's one of the most terrifying individuals to ever grace the big screen (and now silver), but now the world's most notorious cannibalistic psychiatrist is looking to wreak havoc on your Funko collection. 
Hannibal Lecter first appeared onscreen in the 1991 box office smash hit The Silence of the Lambs. The film follows the story of Clarice Starling, a young FBI trainee who seeks the advice of the imprisoned Dr. Hannibal Lecter, a brilliant psychiatrist and cannibalistic serial killer to apprehend another serial killer, known only as "Buffalo Bill", who skins his female victims' corpses. Sounds gruesome, right?
Now I know Lecter is a cannibal, however have no fear as I'm fairly sure Lector prefers the taste of flesh over plastic, so the rest of your collection isn't at risk… or is it?
Here we have Hannibal wearing his white prison outfit, armed with the baton he used to beat the guard to death with during his violent escape from prison. Also available is a blood-splattered variant, covered in the blood of the guard who's face to bit off.
Add both of the new Hannibal Lecter Pop Vinyl Figures to your collection today.
Made of plastic/vinyl
3.75" tall