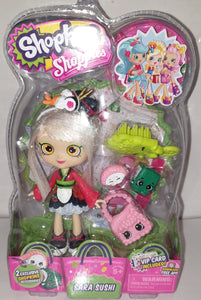 Shopkins Shoppie Doll - Sara Sushi
Peaceful, calm and never alarmed, Sara Sushi is always in tuna with her inner self. But when things dont go to plan she goes off the rails like an out of control sushi train. However, after a few deep breaths shes back on track and ready to chill with her friends at her favorite restaurant.
The Shopkins Shoppies love to play with their Shopkins friends. Comes with 2 exclusive Shopkins
Unlock your Shoppies online by downloading the Shopkins App and enter the unique code from the VIP card that comes in the pack.
1 Super Cute Shopkin Doll Included

Includes 2 Exclusive Shopkins

Includes Brush, Purse and VIP Card

Ages 5+