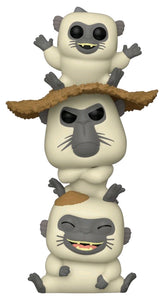 *Raya and the Last Dragon Ongi Pop No 1003
By Funko
Raya and the Last Dragon is a Disney film set in the world of Kumandra, where humans and dragons once lived together in harmony. However when sinister monsters known as "the Druun" threatened the land, the dragons sacrificed themselves to save humanity. Now, 500 years later, those same monsters have returned and it's up to a lone warrior, Raya, to track down the last dragon in order to finally stop the Druun for good.
Funko's exciting new range of Raya and the Last Dragon Pop Vinyl Figured includes both Raya (in standard and warrior pose) and Sisu the last dragon, as well as many other characters from the film including the adorable toddler Noi, Namaari, Ongi, as well as Tuk Tuk, Raya's best friend and mode of transportation. There's also an Exclusive range featuring Young Raya, who comes holding Baby Tuk Tuk, Glow in the Dark Sisu, and Flocked Ongi Pop Vinyl Figures.
This Pop features Ongi .
Made of plastic/vinyl
3.75" Tall