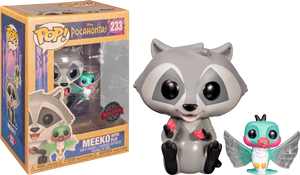 *Pocahontas - Meeko with Flit Earth Day Pop! Vinyl Figure 233
Loosely based on the life of the Native American woman of the same name, Disney's 1995 smash-hit film Pocahontas portrays a fictionalised account of her historical encounter with Englishman John Smith and the Jamestown settlers that arrived from the Virginia Company. Applauded for its focus on a female heroine, Pochahontas went on to win multiple Academy Awards and continue to inspire younger viewers to this day.
Well now Pochahontas fans can also celebrate Earth Day day in style with Funko's adorable new Meeko with Flit Earth Day Funko Pop! Vinyl Figure! Packaged in the limited edition Earth Day packaging, this is one Pop! Vinyl that no Disney collection can go without.
Meeko is Pocahontas's pet raccoon with a love of food, especially John Smith's biscuits. He's also sly, very greedy and loves to steal from anybody, so thankfully he's joined by the hummingbird Flit, who'll be sure to keep him in check.
 W3