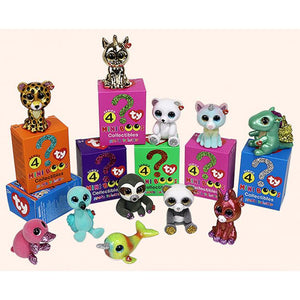 *TY Mini Boo SERIES 4 RANDOM BLIND BOX Collectible Hand Painted Vinyl Figurine

You will receive 1 blind box from the Ty mini boos collectibles series 4!


Box colour is picked at random.


Which of the 10 beanie boo vinyl figures will you get? And also be on the look out for the rare mystery boo! Collect them all!

You will receive ONE of the following figurines:

CINDER the Dragon,
HEATHER the UniCat,
WILMA the Platypus,
NORI the Narwhal,
SUNSET the Unicorn,
STERLING the Leopard
DANGLER the Sloth,
INKY the Flamingo,
GLACIER the Polar Bear,
CHI the Panda Bear,
SECRET Mystery Chaser the Unicorn
For ages 3 and up - fun for the whole family!

Figurines measure approx. 2" tall.
novelty 3