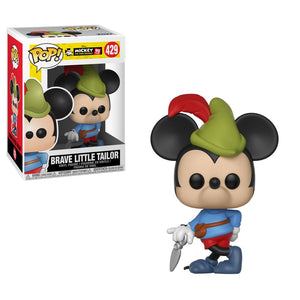 *Disney - Brave Little Tailor 90th Anniversary Pop! Vinyl Figure
May have window scuff marks
Get excited Disney fans because Funko have joined in the "90 Years of Mickey Mouse" celebrations with the release of an incredible new wave of Mickey Mouse 90th Anniversary Pop! Vinyl Figures!
First created in 1928 at Walt Disney studios, Mickey Mouse is an anthropomorphic mouse who typically wears red shorts, large yellow shoes, and white gloves, and is one of the world's most recognisable characters as the mascot of Disney.
This new wave of 90th Anniversary Pops! is designed to celebrate all of the different incarnations we've seen of Mickey over the years, resulting in a collection that no Disney collection can do without.
This Pop! features Mickey as the Brave Little Tailor from the 1938 Disney film of the same name.
pop3