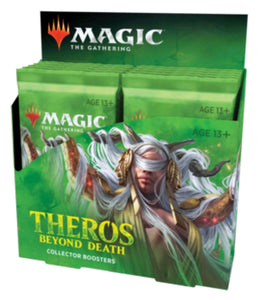 Magic the Gathering Theros Beyond Death Collector Booster Set
Collector Boosters are supercharged booster packs, loaded with nothing but the best from Theros Beyond Death (THB)—foil Nyx lands, alternate art, alternate frames, and more.
Glimpse the divine with four showcase frame cards with stunning alternate art made just for Theros Beyond Death (THB).
Deify your deck with foil, full-art "Nyx" basic lands - there are two in every Theros Beyond Death (THB) Collector Booster. Each one is a glimpse into the realm of the divine.
One card will be something you can't get in traditional booster packs.
Battle your way back from the underworld with legendary gods and destined heroes. Theros Beyond Death (THB) spins Greek mythology through the lens of Magic: The Gathering (MTG).
Each Foil Pack contains: Two (2) foil Nyx basic lands; eight (8) foil common, uncommon, or basic land cards; one (1) ancillary card; one (1) rare or mythic rare extended frame card; one (1) foil rare or mythic rare card (one in four packs include an extended frame card instead); one (1) saga or showcase frame card; one (1) foil saga or alternate frame god, demigod, or planeswalker card; one (1) foil double-sided token.
SOLD AS A COLLECTOR BOOSTER SET OF 12 PACKS ONLY!
Shelf1