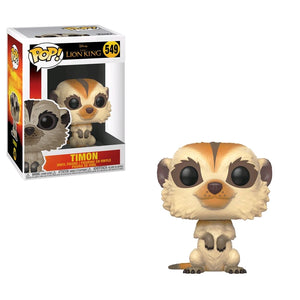 *The Lion King (2019) - Timon Pop No: 549
The Lion King is without question one of the greatest animated films of all time, earning itself a home in the hearts of every child of the '90s. Well, now a whole new generation of Disney fans will get the chance to experience this incredible story of Simba's journey to become heir to the throne with the upcoming live-action reboot.
Much like the new film, set for release in June 2019, this new wave of Lion King Pop Vinyls gives a more realistic take on the animal characters. We've got Rafiki, the eccentric old mandrill that serves as Royal Mjuzi of the Pride Lands. He's joined by the evil Scar, who will stop at nothing to become King of your Funko collection. Thankfully Timon and Pumbaa are one the scene to keep him in check, however if they can't get the job done, Simba certainly will, well, maybe when he's a bit older.
box 212