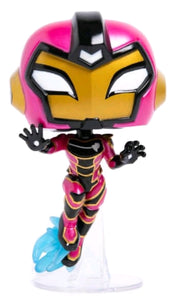 *Iron Man Ironheart US Exclusive Pop No 687
By Funko
It takes a special type of teenage genius to receive a personal visit from the one and only Tony Stark, especially if it's because he's impressed with your engineering skills. Well that's exactly what happened to Riri Williams after she designed a suit of armour similar to the Iron Man Armour using material stolen from her school campus.
After seeing the improvements she was making to the armour, Mr Stark endorsed her decision to become a superheroine, and thus, Ironheart was born.

This Pop features Ironheart wearing her iconic pink suit, complete with a base to give the impression she's soaring in the air.
Made of plastic/vinyl
3.75" Tall
W1