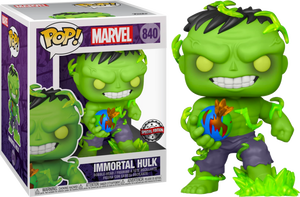 *Hulk - Immortal Hulk 6" Super Sized Pop! Vinyl Figure
Not to be confused with the Immortal Hulk Hogan, this "Immortal One" wont' be preaching for you to take your vitamins and drink your milk, he'd rather spend his time draining gamma from other gamma mutates.
Yes Immortal Hulk is certainly not someone to be messed with, but he's certainly someone who no true Marvel collection can do without, especially when he's a massive Super Sized 6" Pop!
Inspired by the cover of Immortal Hulk #24, this Pop! features Immortal Hulk dripping with Gamma and literally crushing the Earth in the palm of his hands
BOX 305
S1