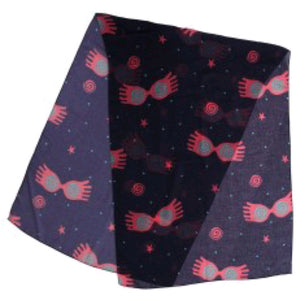 *Harry Potter Spectrespecs Lightweight Scarf
Show off your fandom for the wizarding world when you wear this Harry Potter Luna Spectrespecs Light Weight Scarf either with your Luna Lovegood costume or your everyday wear.
Made from light weight fabric, this scarf can be worn comfortably throughout warmer weather, especially trips to Diagon Ally. Scarf comes in purple and is covered in a scattering of printed pink Spectrespecs, pink stars, pink swirls and small blue dots.
Not only is this scarf a great accessory for a Harry Potter costume but can also be a wonderful gift for any fan of Harry Potter.
Measures 2m x 66cm / 6ft x 26in.
100% Polyester.
Novelty room