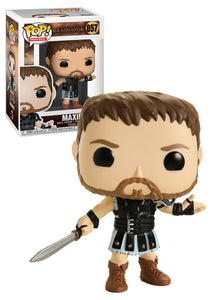 Gladiator Maximus Pop No 857
May have window scuff marks
By Funko
Set in Roman times, Ridley Scott's 2000 epic Gladiator tells the the story of a once-powerful general forced to become a common gladiator. The general we're referring to is Maximum, portrayed by Russell Crowe in a role that earned him an Academy Award.
Now Funko have celebrated this incredible film with their range of Gladiator Pop Vinyl Figures, featuring the film's two most iconic characters.
The wave includes Commodus, the emperor's son who becomes enraged when he is passed over as heir in favour of his father's favourite general. As a result he kills his father and arranges the murder of the general's family. Safe to say, he is one of the most evil villains of all time, and he's featured here giving his infamous thumbs down. It's no surprise he's giving the thumbs down, since Maximum is the other Pop in this wave. Thankfully Maximus is armed with his sword, so he's more than capable of holding his own.
Made of plastic/vinyl 3.75" Tall


pop57 (1)