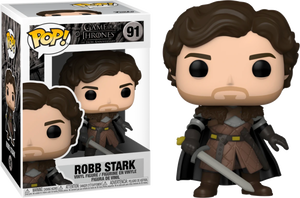 *Game of Thrones - Robb Stark with Sword 10th Anniversary Pop! Vinyl Figure
Can you believe it's been 10 years since we were first taken on a journey to Westeros and Essos?! What a wild ride it was! For eight years we were entertained by the betrayal and bloodshed, and now we can relive all of our favourite moments with Funko's new 10th Anniversary Game of ThronesPop! Vinyl Figures!
This wave features many of our favourites including Tyrion Lannister with his shield, Khal Drogo armed with daggers, Arya in training mode, Robb Stark with his sword, as well as Drogon with a stunning "Iron" finish.
W2
BOX 405