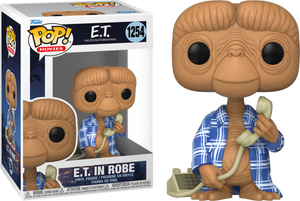 *E.T. The Extra-Terrestrial - E.T. in Flannel Robe 40th Anniversary Pop! Vinyl Figure
Can you believe it's been 40 years since E.T phoned home?!
Released in 1982, E.T. The Extra-Terrestrial saw a little alien botanist steal the hearts of us all after finding himself lost on Earth, and is one of cinema's true masterpieces.
To celebrate the 40th anniversary, Funko have released an amazing new wave of E.T. The Extra-Terrestrial Pop! Vinyl Figures that are sure to help the little guy capture our hearts all over again.
This Pop! features E.T. wearing his blue flannel robe from when he gets drunk watching television.
Ensure you'll never have to say goodbye to E.T. again by adding the new E.T. Pop! Vinyl Figures to your Funko collection. It's the only way to ensure he'll "be right here".
W2(1)
223 (1)