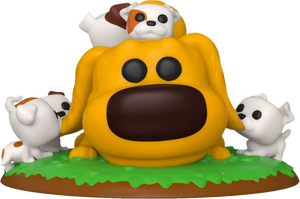 *Dug Days - Dug with Puppies Deluxe Pop! Vinyl Figure
It's been more than a decade since we were taken on the balloon-filled adventure with Carl, Russell and Dug in Disney's beloved 2009 film, Up, but now everyone's favourite grump and his little pals have returned in the new series Dug Days.
Set after the events of the film, Dug Days follows the lives of Carl Fredricksen, Russell and Dug as they return to living suburbia.
Funko's new wave of Dug Days Pop! Vinyl Figures includes this amazing Deluxe piece featuring the loveable Dug being smothered by puppies! Can it get any cuter than that?
W3(1)