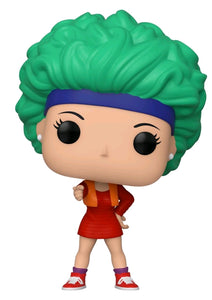 *DragonBall Z Bulma Pop No 707
May have window scuff marks
By Funko
Dragon Ball Z is one of the most critically-acclaimed anime series of all time, amassing an enormous fan base across the world.
The show follows the adventures of Goku who, along with his companions, defends the Earth against an assortment of villains ranging from intergalactic space fighters and conquerors, unnaturally powerful androids and nearly indestructible creatures. It picks up five years after the end of the original Dragon Ball series.
This exciting new wave features 8 new Pop Vinyls for your collection; we've got Vegeta in traning gear, Goku in his World Tournament attire, Trunks with his sword, Bulma with a new hairstyle, Krillin with his Destructo Disc, Piccolo with a missing arm, and for the first time we get Android 16 and Mecha Frieza.
Made of plastic/vinyl
3.75"  Tall
pop30