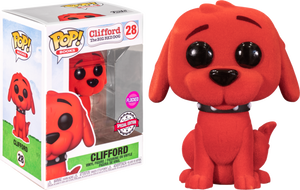 *Clifford the Big Red Dog - Clifford Flocked Pop! Vinyl No:28
First published in 1963, Clifford the Big Red Dog is one of the most beloved children's books series of all time. The story focuses on Clifford, a 25ft tall red puppy and his owner Emily, as they go on various adventures all whilst trying to live out a normal (yet gigantic) life.
Funko's new Clifford Pop! Vinyl Figure may just be the cutest of 2021. Not only does this not-so-little pooch come with his trademark red hair, but his hair boasts a realistic Flocked finish.
An absolute must for anyone who grew up reading the Clifford books as a child, or who still reads them as an adult, we don't judge.
V1