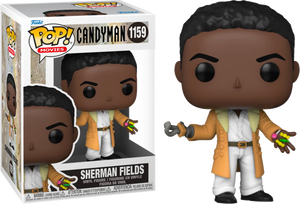 *Candyman (2021) - Sherman Fields Pop! Vinyl Figure
"Candyman...Candyman...Candyman...Candyman...Candyman!"
A direct sequel to the 1992 classic, Candyman is set in present day, where a decade after the last of the Cabrini Towers were torn down, visual artist Anthony McCoy and his partner move into the loft in the now gentrified Cabrini. A chance encoutner with an old-timer exposes Anthony to the true story behind "Candyman". Anxious to use macanre details in his studio as fresh grist for paintings, he unknowingly opens a door to a complex past that unravels his own sanity and unleashes a terrifying wave of violence.
Here we have Sherman Fields,  a hook-handed man who was killed by racist police officers in the 1970s after being falsely accused of planting razorblades in candy.
An absolute must for any true horror fan, add the new Candyman Pop! Vinyl Figures to your Funko collection today! After all, if anyone can guarantee some scares this Halloween...the Candyman can!
W2
7A