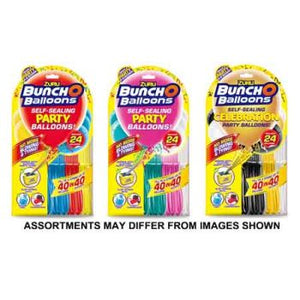 BUNCH O BALLOONS SELF SEALING PARTY BALLOONS 24PK REFILL - MIXED COLOUR ASSORTED
Save time and your breath with ZURU Bunch O Balloons Self-Sealing Party Balloons. Fill, tie and string up to 40 party balloons in just 40 seconds. There's no more blowing, no more tying and no need to add ribbon or string. Simply attach the stems to our Electric Party Pump nozzle and press GO Within seconds, your Bunch O Balloons Party stems will fill and self-tie with ease and convenience. Choose between 1-Stem (8 Balloons), 2-Stems (16 Balloons) or 5-Stems (40 Balloons) and watch your balloons fill within 40 seconds. Each Refill pack includes 24 party balloons and our handy helium adaptor which allows you to take your balloons to the next level by filling with helium. So join the party and choose Bunch O Balloons Self-Sealing Party Balloons, the brand that lets you Prep Less & Party More.
This is a mixed colour assortment. Each pack varies with colours. 


shelf4