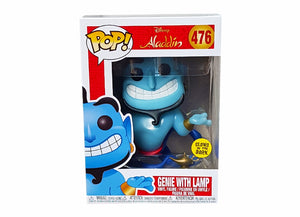 *Aladdin - Genie with Lamp GLOW IN THE DARK Pop No: 476
May have window scuff marks
"Arabian nights, like Arabian days,
More often than not, Are hotter than hot,
In a lot of good ways..."
Straight from the city of Agrabah comes Funko's new wave of Disney's Aladdin Pop! Vinyl Figures!
'Aladdin' was one of Disney most beloved films of the 90s and is still a favourite amongst audiences today. The film follows the story of Aladdin and his journey from regular "street rat" to Prince of Agrabah, taking down the evil Jafar in the process with the help of his pals Abu, Genie (RIP Mr Williams), Rajah and more.
This Pop! features the loveable (yet incredibly insane) Genie, who grants Aladdin three wishes after he discovers the magic lamp
pop3