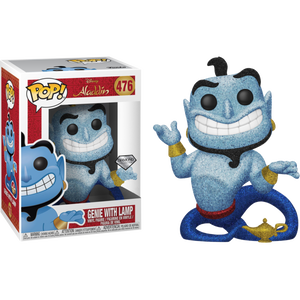 *Aladdin - Genie with Lamp Diamond Glitter Pop! Vinyl Figure
"You've never had a friend like me!"
Aladdin is one of Disney's most beloved films and is still a favourite amongst audiences today. It follows the story of Aladdin and his journey from regular "street rat" to Prince of Agrabah, taking down the evil Jafar in the process with the help of his pals Abu, Genie (RIP Mr Williams), Princess Jasmine, Rajah and more.
This stunning Pop! features the loveable (yet incredibly insane) Genie, who grants Aladdin three wishes after he discovers the magic lamp. Genie comes complete with his magic lamp, and it seems he's granted every Funko fan their first wish because he comes in a beautiful Diamond Glitterfinish. This is without question one of the greatest Disney Pop! Vinyls of 2019 to date and is an essential addition to any true Funko collection.
V1