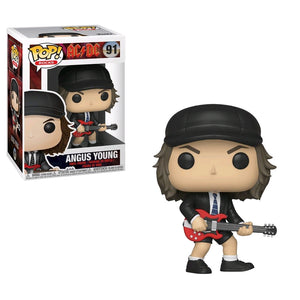 *Angus Young Pop No:91
It's a long way to your Funko collection, but thankfully everyone's favourite school uniform-wearing guitarist Angus Young has made it to the Funko Pop Vinyl Universe.

Angus Young is the lead guitarist of AC/DC, one of the most celebrated rock bands of all time, which he formed with his brother Malcolm. With his catchy riffs and unique onstage persona, Angus Young is without question one of the greatest guitarists of all time.
This Pop features Angus, wearing his iconic schoolboy uniform and complete with his Gibson SG guitar. He'll certainly shake your Pop collection all night long.
For those about to add Angus Young to your Funko collection, we salute you.
W1
BOX 1A (2)
BOX 175 (2)
1 DAMAGED