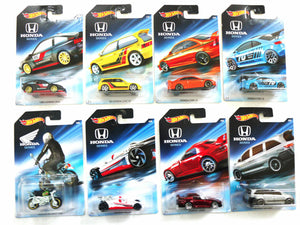 2018 HONDA 70th ANNIVERSARY SERIES: FULL SET OF 8 from this special release series.

CARS ARE AS FOLLOWS:


1/ 1985 HONDA CR-X in Black.

2/ '90 HONDA CIVIC EF in Yellow.

3/ HONDA CIVIC SI in Orange.

4/ HONDA CIVIC SI race version in Blue.

5/ HONDA MONKEY Z50 with a Green Tank.

6/ HONDA RACER in White.

7/ HONDA S2000 in Spectraflame Red.

8/ HONDA ODYSSEY in Silver.
H/W Wall
F/H